Cross-Country Skiing
Cross-Country Ski Trail Information
Snow conditions: To check trail conditions, call the city hot line, 218-730-4321, or check the Skinnyski.com trail reports.
Information: The Duluth XC Ski Club website lists information about tours, clinics, races and grooming status.
Maps: Duluth Parks and Recreation will send their most recent version of the trail maps, 218-730-4300.
Ski rental:
Hartley Nature Center – (218)724-6735
UMD Outdoor Program – (218)-726-6134
Snowflake Nordic Center – (218)-726-1550
Spirit Mountain Ski Shop – (218)-624-8528
Continental Ski & Bike – (218)-728-4466
Ski Hut – (218)-724-8525 East – or – (218)-624-5889 West


---

Trail Systems:
Chester Park: This is a challenging 3-kilometer trail, groomed for skate and classic. It is tucked away near the College of St. Scholastica, off Skyline Parkway in a residential neighborhood. The longtime hub of Duluth's winter sports, the Bowl includes a lift-served downhill ski hill, a speed skating rink, and Big Chester, a 115-foot wooden ski jump that still has its 1926 steel scaffolding.
Note: Chester Park trails will be closed until bridge repair is completed. They hope to reopen mid-winter.
Hartley Park: These wooded loops, in a residential neighborhood, include 5 kilometers of double-tracked classic trails. There's a hilly outer loop and a gentler inner loop, good for families and beginners. Hartley Nature Center rents skis and snowshoes. You can snowshoe on the Superior Hiking Trail, which loops through the park. The Nature Center trailhead is north of UMD, off Woodland Avenue – turn left about ¼ mile after Fairmont Street.
Lester-Amity: This 15-kilometer trail (counting the Golf Course loop), groomed for skate and classic, is the most popular trail in town, easily reached from East Superior Street at 61st Avenue. In early morning and evening, 4 kilometers are lighted. The adjoining 4-kilometer loop on the Lester Park Golf Course is good for beginners and skijoring.
Magney-Snively: This hilly 13-kilometer trail has a classic track and a skate lane and is best for intermediate and advanced skiers. The trail winds from Snively Park to the city limits and adjoining Magney Park, each of which has a stunning overlook. It's accessed two miles past Spirit Mountain on Skyline Parkway, just past the dragon's-tooth stone bridge or from Spirit Mountain XC via the Connector. There are two tricky parts. A snowmobile trail cuts through Ely's Peak Loop, and the one-way ski trail looks as if it ends there, but it continues across the snowmobile trail and just to the right. And at the end, there's a steep downhill that ends in the road; beginners should take off their skis and walk.
Piedmont: This 5.5-kilometer trail in the hills near Enger Park, off Hutchinson Road (accessed from U.S. 53/Piedmont Avenue), is mostly double-tracked for classic and includes an overlook of the St. Louis River valley. There is a 1-kilometer easy loop which is groomed for skate and classic. In general the trail is not too hilly and is good for beginners and intermediates though there are also a couple more challenging loops.
Snowflake Nordic Center: High above Duluth, this privately operated ski center has 15 kilometers of trails, groomed often. Classic tracks flank skate lanes, used by the many racers who frequent Snowflake. There's a convivial chalet with snack counter. A trail pass is $8, but skiers over 65 (and Olympians) ski free.
Spirit Mountain: Just across the road from the alpine slopes on Skyline Parkway, Spirit Mountain Nordic Center boasts 22 kilometers of rolling skate/classic groomed trails with loops for all skill levels. There is an exhilarating Connector to the Magney-Snively trail system. There is 1 kilometer of easier lighted trail. The Nordic Center chalet is open weekends 9:00am to 4:30pm and during the holidays. A donation for skiing is requested.
Above trail descriptions courtesy of Midwest Weekends website, with updates by Duluth XC Ski Club members.
---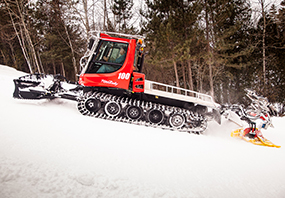 Duluth:
A City for Cross-Country Skiing
Duluth is rapidly becoming known for its trails.  That was a significant factor in being voted Outside Magazine's Best Town Ever for 2014, a contest that takes outdoor activities heavily into consideration for bestowing its title. In winter time, that means cross-country ski trails, and Duluth boasts over 50 kilometers (30 miles) of such skiing pleasure.
It takes a great deal of care, maintenance and dedication to keep the trails in good shape and well groomed for skiers.  In fact, it is a year-round job.  But it's one that the City embraces, and strives for continual improvement in its trail system.  Summer and fall find city crews working on the trails to prepare them for winter months.  In recent years, the trail beds have been enhanced by adding new culverts to alleviate drainage problems and trails have been realigned to make grooming more efficient.  Those efforts pay off in the winter when groomers hit the trails with their equipment.  Being able to complete grooming a trail in less time means they can set more tracks in a day.  Ultimately, that can equate to more frequent grooming.
Speaking of grooming, the City has also invested in a brand new, state of the art PistenBully groomer – the cadillac of grooming equipment.  The improved reliability and quality of this new equipment will benefit the entire range of the City's trail system.  This machine is supplemented by a snowmobile with grooming attachments that can be dispatched at the same time.  In addition, the Duluth Cross-Country Ski Club (DXC) partners with the City of Duluth, and has assumed grooming responsibilities for portions of the Spirit Mountain ski trails.  They too have purchased new grooming equipment, further expanding the resources for keeping the trails in good form throughout the winter.
It's all going according to plan.  The Master Plan, that is.  The City engaged expert cross-country ski resources to develop a Master Plan for the city's trails.  The completed plan includes recommendations for trail improvements across the city's trails.  Some features under consideration are extending the areas of lighted skiing and adding snowmaking on limited sections of trail.  DXC is working closely with the city on prioritizing the recommendations and identifying what it will take to implement them.  The two groups will collaborate on fundraising and bringing elements of the plan to fruition over the years.
A priority of DXC is to establish warming houses on two ski trails serving opposite ends of the City.  They already manage and staff the Spirit Mountain Ski Chalet on the city's west end, serving the Spirit Mountain and connected Snively-Magney ski trails.  An active and aggressive new project is to re-open the building on Seven Bridges Road as the Lester-Amity Chalet.  The intent is to serve multiple community groups, with a primary focus on providing a warm shelter for skiers on the Lester-Amity trail system on the east end of Duluth.  The goal is to open it on a limited basis during the 2014-15 ski season.
Having attained its Outside's Best Town status, the City isn't about to let its efforts slip.  It just keeps getting better.  And cross-country skiers will reap the benefits.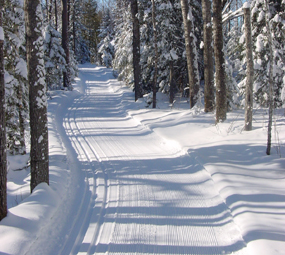 The Gunflint Trail boasts the largest cross-country ski area in Minnesota and even the Midwest, covering 100 square miles. These nationally-renowned nordic ski systems offer some of the best cross-country skiing with more than 176 kilometers of marked and groomed tracked trails, some lit for night skiing, and many groomed for skate-skiing. The Central and Upper Gunflint Ski Trail Systems offer double-tracked trails and single-tracked trails with skating lanes. Connecting the two trail systems is a 29 kilometer single-tracked Boundary Waters Canoe Area Wilderness trail, the Banadad. Three Kassbohrer Piston Bully Snowcats provide the world-class grooming.
At the height of the Laurentian Highlands, three million acres of pine, birch, balsam and aspen of the Superior National Forest are white-capped with an average annual snowfall exceeding 100 inches. Snow cover is deep and dependable generally from late November through early April. This terrain provides a wide variety of challenge for beginners to expert skiers. You'll discover wildly scenic trails; some that traverse winter moose yards, others that follow stunning overlook ridges, and some that follow old trapper trails and railroad beds. The Sawtooth Mountain Range and the vast surrounding Boundary Waters backcountry make the Gunflint Trail one of the most natural and complete cross-country ski destinations in North America.
Rental equipment for all ages and lessons are available at several Resorts.
Golden Eagle Lodge Nordic Ski Center, a silent-sports-only resort, is located on the Central Gunflint Ski Trail System. A well-marked network of more than 70 kilometers of trails, groomed and tracked regularly with Kassbohrer Pisten Bully Snowcats, begin curving away into pristine beauty right from your cabin's doorsteps. The resort's trail system has been specifically built for skiing and all trails are tracked for traditional skiing along with a large portion for skate skiing.
Enjoy the romance of night skiing on Wolf Point, a 1.5 kilometer loop near the lodge. The loop is illuminated two nights a week with kerosene lanterns – a beautiful sight – and the remaining five nights with strings of twinkling electric lights. The Aurora Borealis kicks in every now and then for a dazzling late-night light show.