Winter Exercise Disguised as Fun
Whether you want to explore the outdoors, get fit, or have fun with friends and family, cross-country skiing
is a great way get out and enjoy our winters.
Hundreds of kilometers of pristine, groomed trails and a long snow season make the upper midwest a perfect place to explore on skis. Here's the 101 on getting started, from equipment choices to clothing.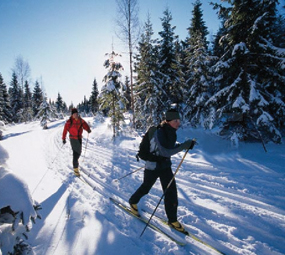 As with any new activity, attaining the necessary equipment can be an intimidating process. In cross- country skiing, there are two primary branches: skate and classic. This is your first step in the decision process. Skate skiing uses a motion quite similar to ice skating, whereas classic skiing involves a striding motion, similar to a walk or run. For most beginners, classic skiing is the best way to start. Classic skis will be more versatile, as you will be able to ski in groomed and ungroomed trails. It is also an easier technique to learn. Thus, classic equipment is what I will focus on in this article.
Your second step is to determine whether you want waxable or waxless classic skis. For the novice skier, waxless is the way to go. Waxless skis have a base with a scale-like pattern which allows you to "kick" the ski on almost any snow surface. This means no messing around with sticky kick wax on chilly days with cold fingers. Waxless skis are simple, versatile, and ultimately cheaper because you don't have to purchase kick wax. Within waxless skis, there are some variations, so when you go to your local shop simply ask for "touring" skis and you should be set. Tell the salesperson your weight and whether you want to ski on a groomed or ungroomed (backcountry) trails, and he or she should be able to determine the appropriate ski for your weight.
Once you have skis, everything else is easy. Boots are easier than you may think. There are two different binding systems (the piece that connects your boot to your ski), the Salomon and NNN systems. Both are valid options, however, there are currently more boots that are compatible with the NNN system. The key to picking a good boot is fit. When trying on boots, opt for the boot that feels most like your running or walking shoes, flexible and comfy (NOT tight like an alpine boot or hockey skate).  Lastly, any relatively light ski pole will do. For classic skiing poles should be arm pit high or so.
Another big question: What should I wear for cross-country skiing? The simple answer is to dress in layers, and in most cases, go lighter rather than heavier. Cross-country skiing is a full body, aerobic sport, and it burns a lot of calories – keeping you warm.  Barring extreme conditions, a base layer, such as polypropylene or spandex, and a wind-proof shell should be all you need on your body. Hats and gloves are another necessity.
Now that equipment is covered, let's talk trails. The upper midwest is home to some of the finest trail systems in the country. Trail systems can even be found within city limits. For example, you can purchase a Minnesota state ski trail pass for $20 a year and you have access to any public groomed ski trail in Minnesota.  These passes can be purchased at almost any gas station in the area, or anywhere hunting and fishing licenses are sold.
You now know the essentials to get started in cross-country skiing. So, get outside, think snow, and see you on the trails.