Fat Tire Adventure
Minnesota is well-know for being the land of 10,000 lakes. Among those 10,000 lakes are some large bodies of water like Lake Superior, Lake of the Woods, Red Lake, Leech Lake, Lake Winnibigoshish, and Lake Mille Lacs. All these bodies of water are known for their recreational activities, beauty, and size. During winter, these large bodies of water freeze up into large sheets of ice, Lake Superior is the exception to this rule.
Minnesota is also known to be the epicenter of winter fatbike enthusiasts, including myself. Oversized tires has taken over the cycling industry and there are few places the fatbike can't go. Groomed single-track, snowmobile trails, ski hills, rivers and lakes are fair game, given conditions, its Minnesota. The fatbikes has consumed my winters between racing, riding, and testing the limits of where a bike with 4 inch tires can take you.
Mille Lacs Lake has a surface area slightly more than 200 square miles and is known for its walleye fishing. The longest stretch across the lake is from Isle to Garrison which is approximately 19 miles as a crow flies. It is less than an hour away from where I live and ever since I assembled my first fat tire bike, it has been on the radar as another opportunity to utilize large tires to cross a very large, frozen body of water.
Crossing Mille Lacs during winter is, by far, not a first. Cars, trucks, snowmobiles, four-wheelers, skiers, and even bikers accomplish this task every year. But as a fatbiker and a photographer, this was a lake, close to home, with the potential of epic photos and the opportunity to ride across the second largest inland lake in Minnesota.
I have spent 20 years traveling across Minnesota's frozen bodies of water. I have pulled toboggans, snowshoed, snowmobiled, skied, biked and walked on ice. To this day, I am still not comfortable when I step onto a frozen lake. When I do, I take all the precautions and use my experience to navigate on a frozen waterway safely. But I always keep in mind that ice is unpredictable. In order to cross Mille Lacs on fatbikes, I had certain conditions in mind to make the ride successful. I wanted to wait until late February or early March to allow a full winter season to make good ice. Temperatures during this time are usually more forgiving and snow and ice has had time to settle making for, hopefully, a harder riding surface. I needed a riding buddy that could leave on short notice, offer good subject matter for photos, and provide another safety precaution, just in case. Add another fatbike enthusiast and a lust for adventure Mike Larson. Now, we just had to wait for that window of opportunity.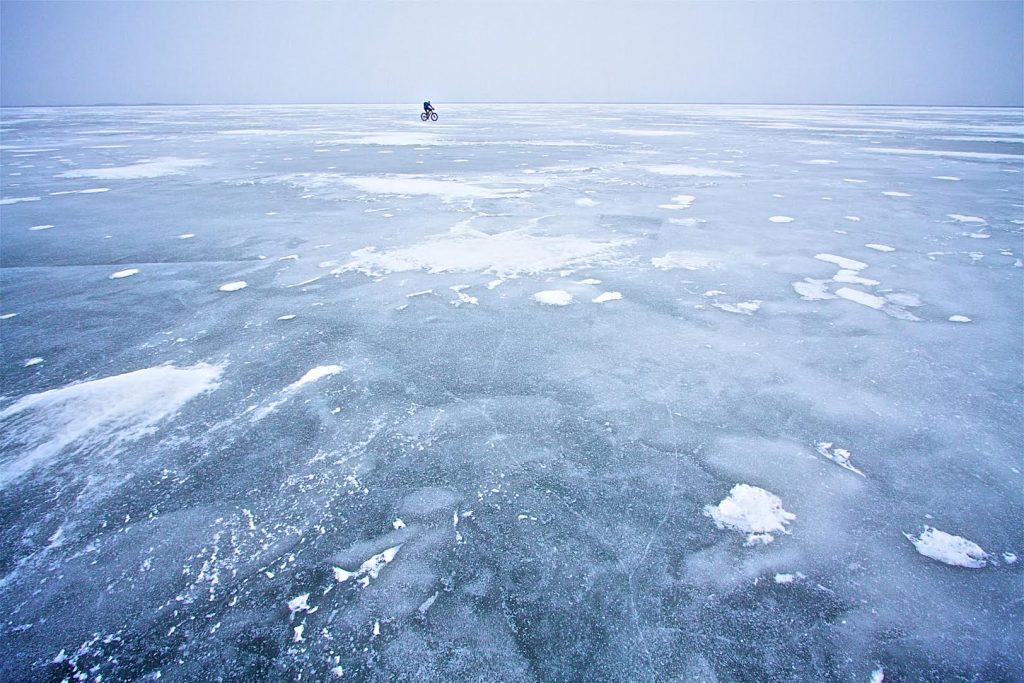 Last winter, the end of February was shaping up to be the window of opportunity I was looking for. We were going through a nice freeze and thaw cycle causing the snow to settle, melt and freeze again. Above normal temperatures made Mille Lacs lake a big, slushy mess and all the resort owners were pulling their ice house off the lake. These warm temperatures were forecasted to end with subzero temperatures following it up, making for solid ice again. The window was open, but with a catch. The warm temps had created a giant skating rink better suited for a pair of hockey skates rather than 4 in rubber tires. But we live in Minnesota, and just like putting snow tires on your car, we have different tires we put on our fat bikes depending on conditions. Four inch tires for normal riding conditions, five inch tires for deeper snow and looser conditions. When it gets icy, we put on tires with carbide studs in them, making riding on ice doable.
So on March 3rd, 2016, arrangements were made with my buddy Mike to leave his van in Garrison while we drove back to Isle to start our ride across the lake. GPS coordinates were used to pinpoint the middle of the lake and then to Garrison to establish our route. The day was gloomy and overcast so our visibility was limited making the GPS necessary with a compass for backup. Temperatures around 20 degrees fahrenheit and a slight wind from the south almost made for the perfect day. As we were doing a final check of equipment a friendly local came by to see what we were up to and stuck around to see us off. The sound of carbide studs on slick ice would stay with us for 19 miles as we had to get used to the the uneven surface which would constantly require slight balance corrections. After a mile or two, the uneasy feeling of being on slick ice with rubber tires went away and we focused on the landscape ahead, sticking to our course, and watching for any warning signs of questionable ice. The hard ice with little snow made for easy riding and we eventually settled in to a nice, easy pace conversing about how cool this all was. Then, our conversation would change when we reached a pressure ridge or crack in the ice. We discussed what the best place would be to cross and then I would get my camera out to capture the moment. We eventually lost the sight of land and reached our GPS coordinate of the middle of the lake. We stopped to take it in, hanging out with our fatbikes in the middle of frozen Mille Lacs Lake. A few photos were taken, a little refueling, and the second half of our crossing began. Feeling much more comfortable with the conditions now, we both would spilt up and ride to features on the ice that seemed interesting. As we closed upon Garrison, Mike was a good distance away but I could tell he was picking up the pace. What started out as a leisurely ride across the lake turned into a race at the end. Who would be the first to cross the second largest inland lake in Minnesota that day, Ill just say we both won.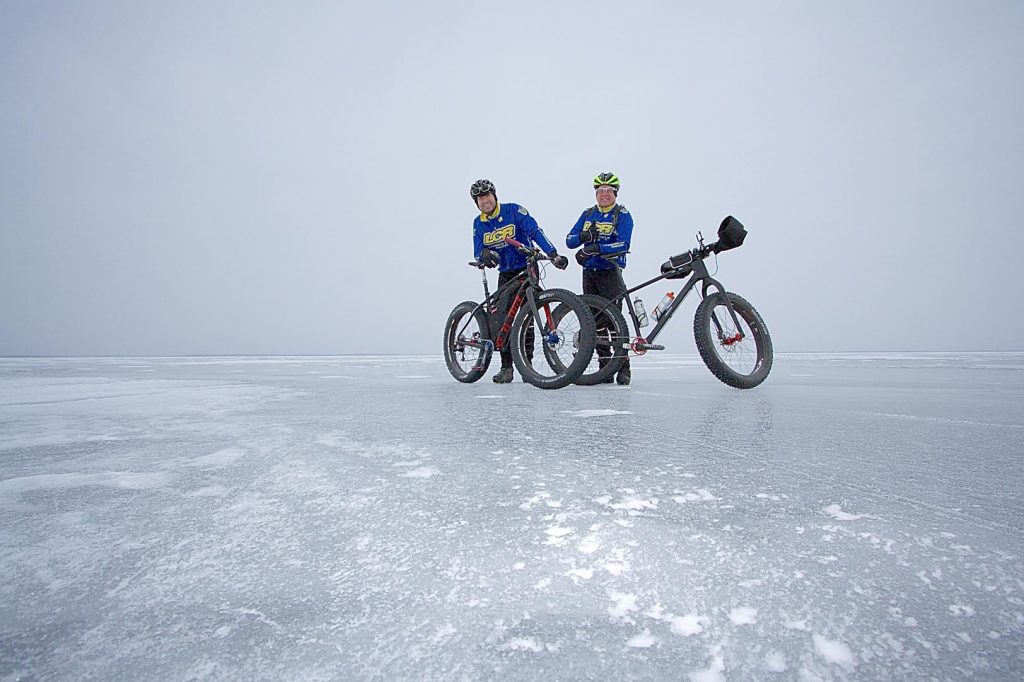 Winter creates a frozen landscape with a network of frozen creeks, rivers and lakes, places normally off limits during the warmer months. Without winter, this journey would have never happened. The Mille Lacs crossing was a success due to good planning, a little luck, and large 4 inch tires with carbide studs.  It was not a first, but it was an experience that Mike and I still talk about as we constantly discuss other adventures by fatbike for next winter.
Chris Gibbs
C5 Adventure Photography
www.c5photo.com