Duluth's Neighborhood Hockey:  A Legacy, Steeped In Tradition
On a cold winter night when one would think the best place to be is inside, Duluth's outdoor skating/hockey rinks are buzzing with activity.  Some children teeter and totter as they push a chair across the rink while others race about in a heated game of "shinny" and others are engaged in formal practice.  Young skate with old and some choose to play in the snow but what is certain is everyone is having WinterFun.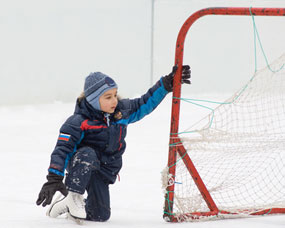 In total there are 18 outdoor skating/hockey rinks at eight different parks.   Duluth's outdoor rinks are unique in that while they are on city land they are maintained by eight different neighborhood hockey associations. In 2012 the rinks were home to 44 teams with kids ranging from 3 to 10 years old. These associations rely on parent volunteers to flood and maintain the rinks. In turn they are able to use the facilities for youth hockey programs.   It is common for volunteers to log hours early in the morning, seven days a week from December until March. They clear snow, clean the warming house and lay down layer after layer of water as each association strives for the "nicest sheet in town."  These volunteer neighborhood organizations not only add to the sense of community but they are able to offer youth hockey for a fee that is one of lowest in Minnesota.
And, the neighborhood rinks have long traditions that date back over 80 years.  For example, Congdon Park Hockey was established in 1924 while Glen Avon Hockey, established in 1947 boasts a lineage that includes 5 Olympians.  So when the mercury dips below freezing be assured that rinks will be flooded, the light will be on and traditions will be kept.
Congdon Park Rink  |  3316 E Superior Street
Duluth Heights Rink  |  33 W Mulberry Street
Gary/Morgan Park Rink  |  1302 88th Ave West
Glen Avon Rink  |  2405 Woodland Ave
Irving Rink  |  20 South 57th Ave West
Piedmont Rink  |  2302 W 23rd Street
Portman Rink  |  4601 McCulloch Street
Woodland Rink  |  3211 Woodland Ave.