Exploring the North Shore by Bike
Minnesotans are hearty by nature, you have to be when you deal with freezing temperatures six months out of the year. We look forward to dropping temperatures, falling snow, and frozen water. At least I do. Years ago, this also signified a time to hang up your bike and wax the skis. But one of the best qualities Minnesotans have is our ability to adapt to our winter environment. So avid cyclists keep pedaling all winter long thanks to things like studded tires, improved winter bike clothing, and the introduction of the fat tire bike.
The fat tire bike has hit the cycling industry by storm. A blizzard of 4 inch wide tires mounted on steel, titanium, and now carbon bike frames are available for the cycling enthusiasts to take them wherever they want to go. Parks and recreational mountain biking areas are grooming for winter single track riding. Numerous races are scheduled throughout the winter and snowmobile trails offer winter cyclists opportunities to get on their fat bikes and explore hundreds of miles of beautiful Minnesota winter landscapes.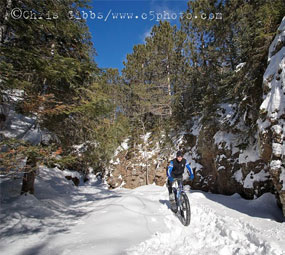 Winter creates a network of frozen creeks, rivers and lakes. For obvious reasons, places normally reserved for boats during the warm season. But now, fat tire bikes has opened the door for winter enthusiasts to explore these areas by bike. Polar explorer, Eric Larsen, used his fat tire bike to attempt to ride across Antarctica. Something he has successfully done on skis. Nothing near as extreme as Antarctica, but I also wanted to explore some areas along the the north shore that I have covered on skis or snowshoes, but now with my fat tire bike.
Winter along the shores of Lake Superior are always impressive. Rarely does the big lake freeze over, but the ice formations is creates along the shore always amaze me. I have always enjoyed looking at the massive ice build up along the sandy beaches of park point. I have walked, skied, and snowshoed along this shoreline many times to see what the combined efforts between the big lake and nature have created during the winter months. Now, thanks to my fat tire bike, I could ride among the huge sheets of ice pushed up along shore from the tremendous power of Lake Superior. It was surreal as I slowly weaved in and out between ice heaves, my large tires and low tire pressure kept me from punching through the hard pack snow and ice. I got the feeling of what it may have been like to ride along side Eric on his Antarctic trek. The conditions that day were epic, a natural terrain park for the fat bike enthusiast and I could have rode my bike all day among the aqua green chunks of ice and wind blown snow. But I had other destinations in mind, destinations I would not have dreamed about riding a bike on five years ago. Destination, the frozen rivers along the north shore.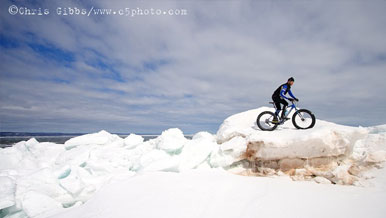 Within the last week, the north shore had just received about a foot of new snow and even these fat tire bikes have their limitations. My first stop was the Sucker River and from the road I could see that my two-wheeled tracks would be the first on the river since the fresh snowfall. I punched through the deep snow as I pushed my bike down to the river and quickly realized that riding up river was not an option. Deep untracked snow made it almost impossible, but that is what I was there for, to explore by bike. So I pushed my bike down river to areas I could ride taking advantage of gravity and overflow ice. The experience was short-lived as I realized snowshoes would have been the better choice of transportation, but I was there to ride my bike. So I focused on finding a river that had already seen winter enthusiasts traveling by ski or snowshoe, just like I have done in the past.
My next stop was Schmidt Creek, a small hidden gem along the north shore just outside of Duluth known more to the locals than the tourists. Fresh snowshoes tracks leading towards the creek was my first sign that my winter bike and I had a chance. Learning from my previous river experience, I lowered the pressure in my tires, around 6 psi, and pedaled my way gently on top of the snowshoe trail leading to the creek. It was midday now, the sun was bright, and I could tell the snow was beginning to soften as my tires would easily lose traction on any sort of incline. I reached my destination, a beautiful tight canyon Schmidt Creek is known for, and met the group of snowshoers who had unknowingly packed the trail for my bike and I to travel on. They commented about my balloon sized tires and I thanked them for breaking trail. The canyon shade kept the snow tightly packed and rideable, but once I reached the areas exposed to the sun, even the packed trail became loose and difficult to ride so I backtracked to the canyon. Like a little kid, I would ride my bike up and down the small waterfalls in the canyon, testing my skills knowing when I would crash, the snow would cushion my fall. I never thought I would be riding a bike on Schmidt Creek. The newly packed snowshoe trail made for rideable conditions, but I found myself pushing my bike as much as I was riding my bike. Again, I thought to myself I am exploring by bike during winter, who would have thunk, but I was not satisfied.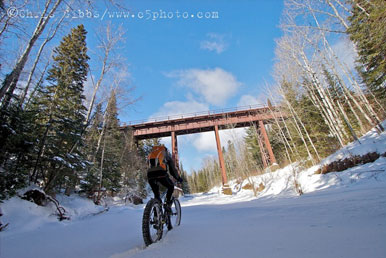 I wanted to ride my bike on a frozen river and not get off. So I realized I needed to find a river that like-minded winter enthusiasts traveled on also, lots of them. Whether it be by skis, snowshoes, foot, or bike, they all have their limitations, but all make a trail through the snow for each to follow, and the more that follow means a better packed trail for me to ride on, hopefully. So I ended my day at Lester River and Amity Creek. Located just on the north end of Duluth, I knew that the winter traffic would be high improving my chances for consistent rideable trail. I was right. Arriving I could see a well defined trail going up Amity Creek, the parking lot at the bottom of Seven Bridges Road was full of cars, most taking advantage of the beautifully groomed Lester Park ski trails, but I was there with my bike, no skis today. Right away I see the unmistakable tracks of a fat tire bike leading up the unplowed Seven Bridges Road, so I follow. Packed snow from snowmobiles, skiers, snowshoers, and walkers made riding almost easy. It was now late in the day, the temperatures were getting colder which made the snow almost "grippy" as it sounded like I was riding on styrofoam. I took advantage of a well traveled snowmobile trail and continued exploring a winter wonderland by bike. My explorations eventually led me to the top of Amity Creek and I was definitely not the first one on a bike as I could see multiple tracks similar to mine almost playfully meandering around the packed trail leading down the creek. Just like a ski run, I dropped in and just as I hoped, a well traveled trail provided effortless riding. A combination of gravity and light pedal strokes allowed me to take in my surroundings and recall a spring that I paddled my solo canoe down this same stretch of creek that I was now riding my bike on. Overhanging trees, small drops, and slick overflow ice prevented my mind from wandering too much as I needed to focus on staying upright, but conditions were perfect as the snow packed single track flowed nicely downstream right back to where I started. Thanks to my oversized tires and all the other winter enthusiasts, not once did I get off my bike.
My day was complete, I had revisited my winter stomping grounds on a bike, something I would have never dreamt about when I was skiing, snowshoeing and exploring these areas during winters past. Minnesotans are hearty people. When the temperature plummets and the snow falls, we don't take shelter, we bring out our toboggans, wax our skis, put on our snowshoes, make snow angels…or we ride our bikes.