Snowmobiling in Northwest Wisconsin
Nearly 600 miles of impeccably marked groomed trails meander through the beautiful Chequamegon National Forest, across 17,000 acre Lake Chippewa Flowage and hundreds of other area lakes. You can ride forever.
Annual snowfall is about 60 inches, and the northwoods helps to hold this snow, providing a riding season that runs from mid December to mid March. Twenty-four hour grooming keeps the trails in top shape.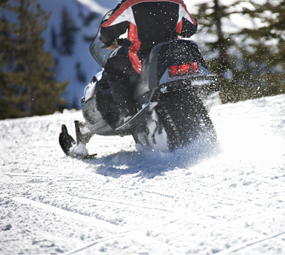 The Hayward Lakes region with its rolling hills, hardwood forests, tall pine stands and pristine lakes serves as the hub of the Sawyer County trail system. A journey on Trail 31 takes riders across the frozen Lac Court Oreilles and along Sand Lake before joining the Tuscobia State Trail just east of Birchwood.
This well-known Tuscobia State Trail is also listed as Corridor 10 on the maps. It crosses Sawyer County from east to west passing through Draper, Loretta, Winter and Radisson, as it makes its journey across northern Wisconsin stretching from Michigan to Minnesota.
Traveling southeast from Hayward, snowmobilers are treated to a tour of the undeveloped Lake Chippewa Flowage, Wisconsin's largest wilderness lake. This focal point of Sawyer County was created in 1923 by a power company dam and has more than 17,000 acres of water with 140 islands and more than 200 miles of natural shoreline.
Trails lead in all directions in this scenic region offering unlimited choices. When staying in this area, snowmobiles are the only transportation you will need since almost everything is accessible via snowmobile. Excellent lodging with roaring fireplaces and great food can be found trailside throughout this region.
The Hayward Nationals Snowmobile Event on March 2-4, 2012 features a full weekend of intense competition on a mile long snocross track. The race course is laid out on a natural bowl and provides an ideal spectator sightline. The classes include Pro-Stock, Semi-Pro, Sport Open, Junior 14-15, Junior 16-17, Sport Super Stock, Sport Women Super Stock and others.