Getting Started in Snowmobiling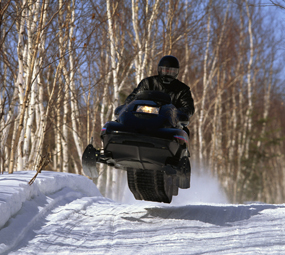 If you've ridden a snowmobile, you've probably already discovered that snowmobiling is the perfect activity to enjoy the winter months with family and friends. For those who haven't tried snowmobiling before, it's time to test drive one and determine if snowmobiling is right for you. You'll learn that operating a snowmobile is less difficult than you may think.
Renting a snowmobile is a great way to establish your comfort and skill level. There are numerous rental agencies throughout the United States conveniently located near groomed trails that can provide you with the best snowmobile equipment and give you a taste of the snowmobiling lifestyle. In fact, many of North America's 225,000 groomed and marked trails are near rental agencies.
To purchase a snowmobile, visit a dealer for information. There are 1,840 licensed snowmobile dealers in the United States and 1,154 in Canada who can help you decide which snowmobile is best for you, based on your planned usage and within your price range. Snowmobiles start at $2,000 in price for a used model and $6,000 for a new one. The classified sections in the newspaper and on line websites are also great places to start looking for used snowmobiles. 3 million North American families enjoy snowmobiling each winter.
For those interested in learning more about snowmobiling,
www.gosnowmobiling.org is an essential tool for guidance. It provides information on how to get started in snowmobiling, dealers and renters who can supply you with a snowmobile in your area, destinations to take your snowmobile and more. It's a great way for the inexperienced snowmobiler to get informed. A free e-newsletter is also available to sign up for through the website.
ISMA is an organization representing the four manufacturers of snowmobiles. ISMA's main function is to provide and encourage policies, programs and activities to improve the lifestyle activity of snowmobiling throughout the world. It maintains strong partnerships with the American Council of Snowmobile Associations (ACSA) and the Canadian Council of Snowmobile Organizations (CCSO/CCOM). For more information about ISMA, visit www.snowmobile.org.