Strap on Some Fun
If you love winter and love snow, there is no easier way to get out in the winter woods than on snowshoes. More and more people are discovering the ease and comfort of snowshoes. Unlike skiing, there are no scary, slippery turns to worry about. You can go at your own pace through peaceful hills and forests. You work just hard enough that you can stay warm in almost any winter weather.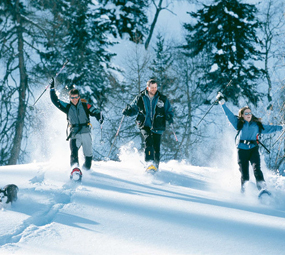 Snow? From the bluff lands of the southeast to the ancient mountains of the north, you can find the deepest snow in the Midwest.
Trails? Minnesota State Parks maintain excellent trails for nearly all winter sports.
Snowshoes? Many Minnesota parks rent them right on site.
Warm, weatherproof clothes? Well, you'll have to bring those. Be sure to have good winter boots and pants that will shed the snow.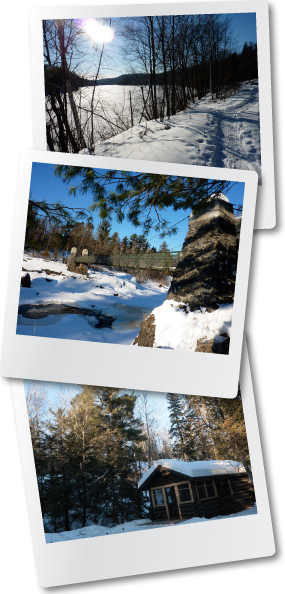 Jay Cooke State Park, near Cloquet, MN, is perfect for the beginning snowshoer. The visitor center, which opened in 2010, is your first stop to pick up your vehicle permit, get directions, and rent your snowshoes. While there are 50 kilometers of groomed cross country ski trails in the park, snowshoers head for their very own trails; the park has ten miles of designated snowshoe trails (top). You might even snowshoe across the park's landmark Swinging Bridge (middle). Make a weekend of it and stay in one of the park's heated cabins (bottom). Beginners can start on the Ogantz trail, a popular two-mile loop that's groomed and packed by machine. Once you've gotten the feel of walking on snowshoes, return to the visitor center and capture the original spirit of snowshoeing by following the blazes and ribbons of a special trail through the forest near the campground. Pass that test and you're ready to go off the beaten path and try one of the park's hiking trails, like the historic Grand Portage Trail. Minnesota State Parks are perfect for beginning snowshoers. Head out into the winter woods today! To reserve a state park camper cabin, visit
stayatmnparks.com
. Click for a list of
Minnesota State Parks rent snowshoes.