A Page From Will's Journal
I was working in the shop today when the dog yard broke into a wild ruckus of barks and howls. I dropped my tools and raced outside to see what the trouble was. Large flakes of snow were falling – our first snow of the year. The dogs spun wildly around and around, some bounced on and off their dog houses like toy slinkies. The dog yard was ecstatic with excitement. Winter fun was on its way.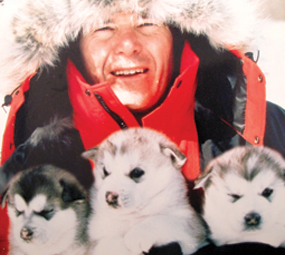 I feel the same way when the summer constellations set in the west giving way to the first frost and then, the winter's snow. The  Northern forest is slowly transformed to white as the lakes and swamps freeze and the travel season begins. When I was 25 I moved from Minneapolis to live in a log cabin in the Ely wilderness. I felt if I could master the cold I could explore areas where human experience has never been. For a livelihood I started a winter school and took groups on long trips, traveling on skis and snowshoes, assisted by dog sleds into the borderland wilds. Over the years I introduced hundreds of people to the beauty and the wonders of winter. All it takes to step into the season of winter fun is a good attitude, the proper gear and a little instruction.
To most the cold is threatening, but when you are confident and comfortable you will see a new world, one that is charged with spirit and freshness, a world that will always draw you back. I am often asked by young people "how do I become an explorer?" My answer is always the same "put your boots on and go."  The northern winter season is upon us, so put your mukluks on – and some warm clothes – and go.