Golfing Just Got Way Cooler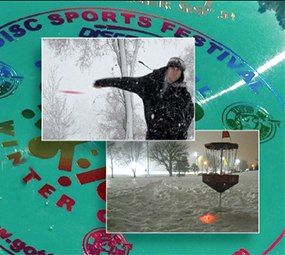 Golf in the winter?  Yes, but not the traditional golf with a club and ball. Instead, it's disc golf — a winter activity that's challenging, exhilarating and most of all, fun! 
Disc golf is generally played by the same rules as traditional golf, but instead of hitting a ball with clubs, players throw flying golf discs with varying flight characteristics based on the available throwing lanes, skill level of the golfer, wind conditions and distance to the pin. And just like traditional golf, at the top levels of competition it's "drive for show, putt for dough."
"Disc golf can be played from school age to old age, making it one of the greatest lifetime fitness sports available," say the experts at the Professional Disc Golf Association (pdga.com), which has a member base of more than 50,000. "Because disc golf is so easy to learn, no one is excluded. Permanent disc golf courses are found in countries worldwide."
The Upper Midwest is blessed with one of the greatest concentrations of disc golf courses in the world, with most courses free to play and open throughout the year. Minnesota (238 courses), Wisconsin (181 courses) and Michigan (172 courses) have vibrant disc golf scenes and some of the best courses in the country. There are even winter disc golf leagues, winter disc golf tournaments and nighttime winter disc golf leagues (Moondog Tuesday Night League in Inver Grove Heights, Minnesota).
There are several unique characteristics to winter disc golf. First and foremost, winter rules mean no penalty strokes and no need to mark your lie. For most players, the cold weather combined with the wearing of additional layers make the flight of the disc more stable. And most importantly, no white discs! While you don't want to lose your ball in traditional golf, you don't want to lose your disc in the snow, either. Strategies include use of spotters for long drives, marking discs with colored chalk to indicate the disc's entrance into the snow, or even a long, narrow ribbon taped to the top-center of the disc. Nighttime disc golfers tape bobber lights or specialized disc lights to illuminate the discs for easy locating (note to onlookers: Those aren't flying saucers… or are they?)
If you're looking for unique winter fun with the challenges and rewards of a competitive round of golf with your friends, try giving disc golf a whirl. You'll be amazed by how much fun you can have outdoors in the wintertime.
Resources:
Michigan Disc Golf Organization
Minnesota Frisbee Association
Ontario Disc Golf
Wisconsin Disc Sports Association
Blue Ribbon Pines Disc Golf Club, East Bethel, MN
Sandy Point Disc Golf Resort – Lac du Flambeau, WI
Highbridge Hills Sports Complex, Highbridge, WI