Winter Camping Can be a Hot Experience
Camping or backpacking in the snow appeals to anyone who enjoys the beauty and peacefulness of a pristine winter wonderland. With a little preparation, you might be surprised at how comfortable it can be. Winter camping takes tent camping to a new level by combining multiple winter activities into one complete adventure. Enjoy snowshoeing, cross-country skiing, ice fishing, star gazing and nature watching. You could even pull a sled behind you filled with gear.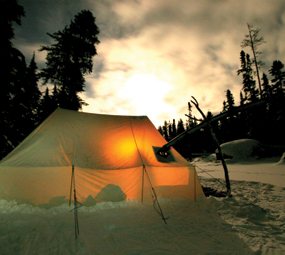 How to Beat Cabin Fever
It had been a rewarding day. Three portages, two friends and four miles of breaking trail in two feet of powder. Nights are long in the North Country this time of year. It is 6 p.m. and already the moon is up and stars are bright. We stretch stiff muscles while the snow underfoot squeaks as if we are stepping on Styrofoam.
We put our snowshoes on and head to the middle of the lake to where the moon is shining brightly. We stand at the brink, the tails of our snowshoes in shadow and the fronts in moonlight. To our right our snow shoe trail is a serpentine line running from the portage and disappearing along the shore. To our left, the unbroken newly fallen snow sparkles like diamonds.
There is no doubt though, that the cold is winning our battle to stay warm. We follow our tracks back to the tent. I unzip the door and step inside. Chris is close behind but I cannot see him; my glasses have fogged in the heat of the tent. I pull them off to find Steve rolling pieces of venison in flour. Piles of onions and green peppers are ready for the pan. As Steve begins frying, I lie down on my sleeping bag and bask in the 65-degree heat. Another evening in the Northland begins.
I have repeated this scenario with numerous friends for the past 15 winters. Always with a canvas tent and wood burning trail stove. One can handle anything during the day if a warm tent waits that evening. If you spend your winter days pouring over maps, dreaming of summer trips to come and fondly remembering those past, then it is time to expand your horizons to the colder months of the year. Give warm winter camping a try.
Author's note: For more on this style of camping, read The Snow Walkers Companion by Garrett and Alexandra Conover. It's all the information you'll need to get started.